We Indians are very deep into entertainment, be it Bollywood, daily soaps or online web series, we love to watch most of it. That is why, to keep our experience more realistic, we should pick a TV that has natural contrast, saturation and can fill more pixels on the whole screen. Other than this, many other features on television can completely change our viewing experience. We will talk about all the aspect later in this article.
So we have reviewed multiple television to find out which one is really worth the price. So we have selected some of the best television in India with its latest 2021 model. And as we all know that while buying a television we should always give our priority to the display panel. A television with great features but with a bad display isn't worth buying at all. Also, the price should not be sky-high.
So here is the list of the best LED TV in India for 2021, so far.
Best 4K Smart LED TVs
If you are looking to buy a 4K television, Smart TV is always a preferable choice. As you know, there are hardly a few channels that air on 4K resolution. So if we can't even view 4K programs, then there is no point in buying 4K television. However, Smart TV does support multiple streaming services like Youtube, Netflix, Amazon Prime Video, Hulu, etc. that provide 4K content. All you need is to connect your TV with your internet, and you can explore the millions of videos on the internet.
So here is the list of the best LED TV in India that comes with 4K UHD panel.
1. Samsung UA50NU6100 TV
Released in Feb 2019, Samsung UA50NU6100 is full-fledged 4K television that is a great choice for everyday entertainment. This TV is a part of Samsung's super 6 series which is software + hardware-level tweaking to produce a better image and audio quality experience. The dynamic range of this TV is quite high but I won't recommend to turn it on (as natural contrast is always great). On the more advanced side, this TV lets you control it as a virtual remote using your smartphone with Samsung's TV app.
The reason why Smart TV is absolutely great for Indian consumers because of the way it designed. The simplified navigation feature is effortless to use by old age parents, and also it supports 10+ local languages which are cherry on the top. So if you can afford that much budget, you can surely go for this TV.
2. Samsung 49UK6360PTE TV
Main Specification
Best large screen 4K smart TV
50 inch full HD screen with 3840 x 2160 resolution
120 Hertz LED panel with a dynamic contrast ratio of 40000:1
Good choice for an outdoor, dark and bright room
3 HDMI and 2 USB port support
Sharp sound with 20W output
Here is a smart TV by Samsung which is recommended for everyday usage. The best thing I like about this television is the dynamic range of contrast and saturation, which enhances the viewing experience. As this is a smart TV, it has a Tizen based operating system which also supports limited Android apps too. Also, this TV comes with built-in Wi-Fi hardware support that can be used to transfer or internet sharing. For a gamer, this TV is even better as it supports up to 120 frames per second and you can connect your laptop or gaming console with it.
The television itself has a quiet big screen that has an option of wall mounting. Recently, the price of this TV was slashed by 30% and it is our highly recommended product.
3. LG 43UK6360PTE TV
Main Specification
Best 43 inch truely Smart TV for your home
43 inch full HD screen with 4K UHD (3840 x 2160p) resolution
IPS LED panel with a 50-hertz refresh rate and Active HDR
DTS Virtual technology, Built-in WiF, and Bluetooth
3 HDMI and 2 USB port support
If you are looking for true Smart TV experience that gives value for money, you should probably pick LG 43UK6360PTE. This TV has an AI ThinQ voice feature that builds with Google Assistant. You can literally ask TV to switch programs, check for weathers, launch apps, etc, which works smoothly most of the time.
Due to the IPS display, you can expect very balanced or high saturation, but the contrast ratio is low (1200:1). So if you have a dark room, this TV is highly recommended for you.
4. Sony Bravia KLV-32W672G TV
Main Specification
Best 32 inch Smart TV to watch popular web series
43 inch full HD screen with 4K UHD (3840 x 2160p) resolution
IPS LED panel with a 50-hertz refresh rate and Active HDR
DTS Virtual technology, Built-in WiF, and Bluetooth
2 HDMI and 2 USB port support
Here is what we consider a medium-sized Television from Sony and this brand is known for its picture quality in televisions. This TV has a standard HD screen that comes with software-based dynamic contrast which is sort of like HDR and X-Reality for added sharpness. In the hardware department, this TV offers a dedicated remote control option to enjoy Youtube and Netflix on the go. Also, the TV supports multiple Indian national languages, and you can choose it accordingly.
At this price point, this television is a great pick, especially you want to bid on one of the most trusted brand's names.
Best Full HD LED TV
A full HD TV means the 1080p (1080 x 1,920 pixels) screen resolution, which gives a sharp image. Currently, Full HD televisions are becoming the first choice for consumers, and currently one of the highest-selling types of television in India.
As I know that all full HD TV will have a 1080p resolution, but we are here to find out some of the additional features that give us value for money. It can be a cheaper cost, additional hardware support, etc. So, keeping that in mind, here are the best full HD TV that you can buy in India right now.
Samsung UA43N5010ARXXL is a perfect choice for a family of 3-4 members because of the big screen size. With Samsung, you don't have to worry about screen burning or picture quality as this TV has Hyper real engine. Also, the TV allows you to connect with any gaming console using 2 HDMI jacks. You can directly play popular file formats like .mp3, mp4, .avi on this TV. Just transfer the file from your laptop/PC to your pen drive and plug it into the TV to start exploring the content. The sound of this TV is standard, nothing new here.
6. CloudWalker Spectra 39AF TV
Main Specification
39 inches screen size with 1920 x 1080 resolution (60 Hertz)
LED non-IPS XLuminous display panel (60 Hz refresh rate)
High color saturation and contrast (5000:1)
Comparatively affordable price
If you don't have a super high budget, Spectra 39AF by CloudWalker is an ideal choice for you. Most of the reviews on Amazon are five stars because this television has a combination of decent hardware at a very pocket-friendly price. The Flat Panel Display is designed for viewing at 178 degrees (horizontally) without any noticeable color shift. Also, the XLuminous display scaleup video to fit the width ratio while enhancing sharpness and vibrant colours. The speakers have 20W output, but the bass is slightly enhanced by Boom-Box technology. Although, I understand that Cloudwalker has not a big brand name, this television is a great buy.
7. LG 43LJ531T LED TV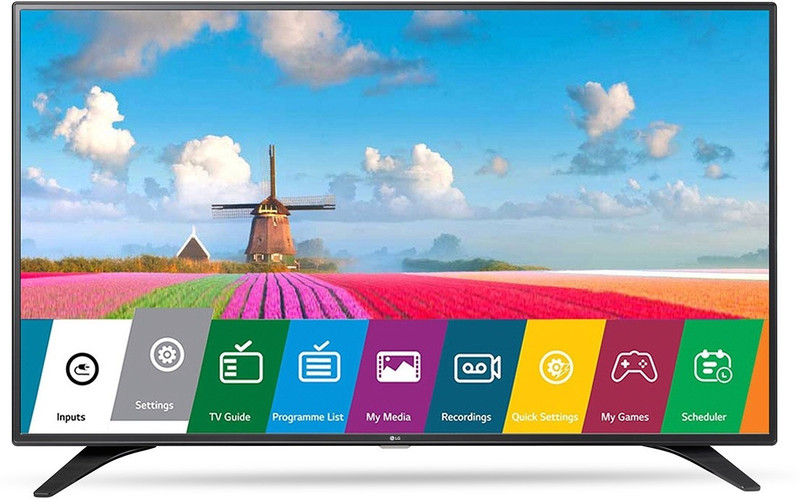 LG Smart 108cm (43 inch) Full HD LED TV(43LJ531T)
Out of stock
Flipkart
as of October 12, 2021 8:06 am
Main Specification
43 inches of full HD display (1920 x 1080, 50 Hz) resolution
LED IPS display (60 Hz refresh rate)
High color saturation but low contrast
Better viewing angle as it has IPS display
Here is a full HD low budget TV by LG which has an IPS grade LED panel. Due to the IPS display, you can't expect high contrast; however, the saturation (vibrance) makes the display more beautiful to watch. Also, the viewing angle works from edge to edge both horizontally and vertically, thumbs up for that. Black uniformity will be poor in this television, but LG's Color Master Engine helps auto-adjust hue and luminance. This TV is an ideal choice with a budget of around 30,000 in India.
Best Budget LED TV
Not all can afford to buy a television that has an expensive price tag; however, what if we can get all the major features at a budget price? Well, that possible and thanks to emerging brands like TLC, Sanyo, Kevin, VU, MI, etc. These brands are setting an example that great hardware doesn't always require a sky-high price. The only problem you may get with these brands is the lack of service centers across India. Otherwise, you can really get superb quality television even on a tight budget.
8. Kevin KN40S Smart TV
Main Specification
40 inches Full HD 1080p resolution display
Wide viewing angle with high contrast
Great hardware with very affordable price
Watch Hotstar, Youtube, Netflix on the go
8 GB of internet storage for media files
3 HDMI ports and 2 USB ports for connectivity
One cannot refuse to buy a television like this, especially if we compare it with many premium brands like Samsung, LG, and Sony. Kevin has designed this TV to fulfill all the desired to own a Smart TV without paying a high price. The panel has very high contrast, and the angle of viewing is also wide 178 degrees. So even if you have a family of six people, you can watch your favorite shows sitting on your sofa or maybe from your bed.
Because this TV has Android 5.1 support and has App store inbuild, you can also download multiple application to access the internet. The price of this TV is very minimal and if you want a great piece of entertainment by paying less, you can consider buying this TV set. The TV as excellent 4.3 ratings on Amazon.
9. Sanyo XT-49S7100F TV
Main Specification
49 inch extra large with 1080p Full HD resolution
IPS disply panel with more crispy saturation
Standard television for a pure viewing experience
2 HDMI and 2 USB ports support
When you look for a non-smart TV,  picture quality becomes an essential feature and this TV has a great presence of display. You like it, you buy it, it is that simple with this TV. Sanyo XT-49S7100F simply offers a pure viewing experience with its standard feature. However, the IPS panel makes it more enhanced as compared to regular grade panels. Also, the 49-inch screen size is great entertainment for a big family. Overall, this TV offers all the standard feature with great picture quality at a super-budget price.
10. BPL T43BF24A TV
Main Specification
43 inch of Full HD resolution
Super high contrast of ratio 3000:1
2 HDMI ports and 2 USB port
One of the most older company BPL is now making some of the innovative products and this TV is one of a kind. This is a standard full HD TV that is better than many of the other TV manufacturers because its much cheaper and contrast ratio is too good. The panel is achromatic and transparent which means you can get to see all the natural colour without any software optimization. The TV is also able to play multiple media formats such as MP3, MP4, AVI, MPEG etc. Just connect your external hard-drive with this TV using USB port and start enjoying your favourite movies.
11. Mi 4C Pro TV
Main Specification
32 inches of 720p HD-ready display (1366 x 768) resolution
The display is LED-based with 60 Hz refresh rate
Advertised contrast ratio of 4000:1
 3 HDMI ports and 2 USB ports for connectivity
Smart TV based on Android Operating System
Mi 4C Pro is largest-selling television on Amazon and also one of the most budget-priced televisions that offer smart features. This TV isn't full HD and if you are ok with that, this is a great buy. The TV also supports Wi-Fi and Bluetooth connectivity and built-in Chromecast is also a great feature of this TV. Overall, in this budget range, the TV is quite cheaper than many other brands.
Here are two more models of this same TV with bigger screen size, check it out.