In this section, we have listed the best window AC in India right now. As you know, Window AC is the right choice for small to medium size rooms because it is much more convenient. Although, there are so many window ac models available in the market that make us confuse. Therefore smart selection is essential, especially if you are buying an air conditioner. For this reason, we have researched some of the best performing window ACs in the year 2021.
The first question one should ask themselves is what defines the best window AC? Well, even though you do not know anything about it, this post has listed the top range of window air conditioners in India. These AC are tested based on fast and optimal cooling with low power usage while keeping the budget pocket-friendly. After all, saving electricity money is also our priority. In our list of best ac in India, we have covered only a few window AC, but this is an extended edition of window type AC. These air conditions are listed on the basis of eco-friendly refrigerant, compressor type, cooling capacity, and power-saving star ratings. Let's get started with it.
Here is the final list of best window AC in India for 2021.
1. Voltas 185V DZA
Voltas 1.5 Ton 5 Star Inverter Window AC (Copper, 185V DZA, White)
Out of stock
Amazon.in
as of May 9, 2021 2:40 pm
Only a few models of window comes with inverter technology, and Voltas 185V DZA is our first choice. This AC has a high potential to save your bill while keeping your room cool because it has the highest BEE star rating. This AC uses the latest Voltas compressor technology, which is a Two-Stage Steady Cool Compressor. It is an inverter technology that allows the motor of the compressor to work at variable speed, which means maximum energy savings.
This window AC comes jampacked with much-needed features like better humidity control, multistage anti-bacterial and dust filter, high ambient up to 52⁰C scorching heat. The use of a copper condenser gives this AC high life with low maintenance. Also, this AC doesn't need an additional stabilizer as it can work between 100-290V. So, if you have a budget that can afford this AC, just don't think twice.
2. Hitachi RAW511KUD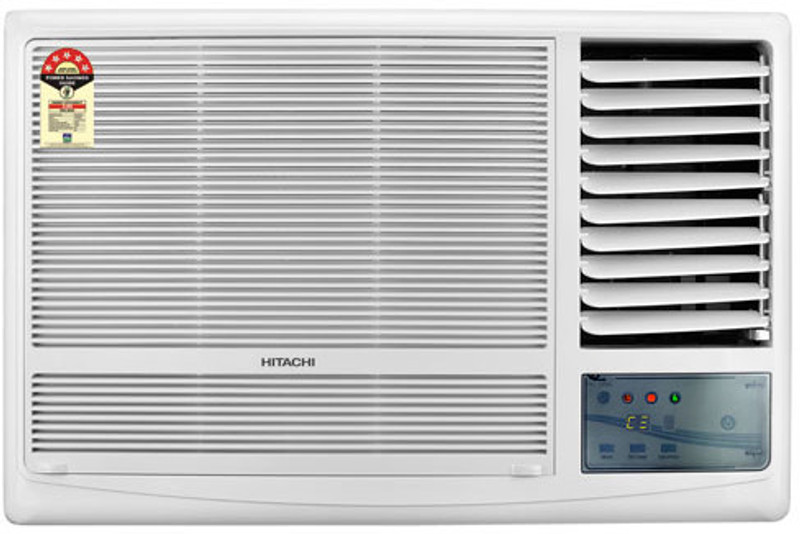 Hitachi 1 Ton 5 Star Window AC - White(RAW511KUD, Copper Condenser)
₹

24,490
₹ 29,090
Out of stock
Flipkart
as of May 8, 2021 10:52 am
If you live in a small PG house or maybe your room size is small, Hitachi RAW511KUD is a perfect fit for it. The efficiency of this AC is good means it will give you sufficient cooling for a low monthly bill. Speaking of features, we really like the Auto Climate technology and Kaimin feature. With Auto climate technology, this AC works comfortably in 100 different types of city humidity and temperature range. The Kaimin feature is designed to adjust the cooling according to human body temperature in the night so that there is no more wastage of power. Most of the brands miss these kinds of features which leads to higher bills every month. Koukin air filter is also great, which doesn't allow harmful bacteria to enter your room.
The pre-coated aluminum fins avoid corrosion so that you get the fastest airflow. This AC produces less noise (50 dB) than most of the window ACs. Overall, this window AC is a comfortable companion for a small size room and has a high potential to save your money with grade "A" cooling.
3. Voltas 185 DZA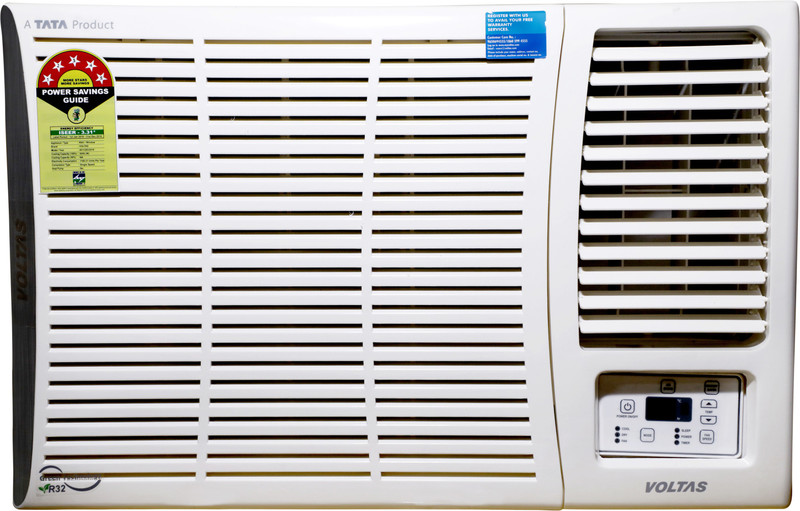 Voltas 1.5 Ton 5 Star Window AC - White(WAC 185 DZA (R32), Copper Condenser)
₹

24,974
₹ 30,590
Out of stock
Flipkart
as of May 8, 2021 10:52 am
Voltas 185 DZA is the latest (2019) non-inverter edition of the 185V DZA model. The perfect balance of power-saving capacity and reduced initial price makes it a perfect choice for many consumers. This window AC is similar to Voltas 185V DZA, but with a fixed speed compressor and a lot lower price, however, your monthly bill will be a little bit higher (5% – 10%) with this AC.
This window is a great selection for an atmospheric temperature of up to 50°C. Even if you live near the coastline, the active dehumidifier is sufficient enough to eliminate all the moisture from your room to make you feel comfortable. Also, the turbo-cooling feature helps to drop the room temperature faster. Overall, it's a great choice of 5 stars AC if you can't afford inverter type AC.
4. Carrier 18K Estrella
Carrier 18K Estrella Premium Window AC (1.5 Ton, 5 Star Rating, White, Copper)
₹

34,490
₹ 39,900
in stock
Amazon.in
as of May 9, 2021 2:40 pm
Carrier 18K Estrella is a premium window AC that is designed for fast cooling, healthy breathing, and energy saving. First of all, this AC takes care of pure air-breathing by eliminating various kinds of impurities. It has an electrostatic filter, carbon filter, zeolite, and standard dust filter that maintains better airflow using a maze build-up of static prone fibers. It helps to remove tiny microns, bacteria, pollens, and harmful gases. You can expect the bad odour out of your room within 20-30 minutes of AC active mode.
In addition to this, this AC generates fast cooling within a few minutes, and BEE 5 star rating ensures maximum possible efficiency. You can easily trust this AC in high humid areas as it makes your room dry by dehumidifying all moisture in the air. Although, the noise level (52 dB) is not very quiet but still acceptable. Carrier 18K Estrella also has a five-layer of coating on internal and external metals to make it durable for years without any rust or corrosion.
In case of any error, the I-Detect technology senses it and automatically shuts down your AC unit to avoid further damage. So overall, this AC does have some premium features which make it a strong contender of the year 2020 in our best window AC list.
5. Hitachi RAT518HUD
From one to many cases, Hitachi RAT518HUD is a great choice for a medium-size room, especially if you want a silent AC. Hitachi RAT518HUD produces only a noise level of only 46 dB externally, which is very silent as compared to other windows ACs. This AC is designed for extreme Indian weather conditioners where the temperature can reach up to 55 degrees Celsius. Hitachi always impresses us with their build quality. What it means is that for every Hitachi product you buy, you get quality and durable products. This AC offers a great luxury comfort range with effective cooling as well as power saving. There is no compromise in rapid cooling, and you can expect your room temperature is going down from 28°C to 20°C in a matter of 5 minutes.
Another added feature of this AC is the "Auto Filter Clean Indicator" which reminds you to clean and maintain your air conditioner filters regularly. So if you are living in a sweltering climate or perhaps the precipitates in the air is too much to breathe, Hitachi RAT518HUD is a great pick.