As a fact, Voltas is one of the highest selling air conditioning brands in the Indian market. Headquartered in Mumbai, India, It has become a big name and giving a tough competition to the other foreign brands. Good choice if you want to buy a Voltas air conditioner, we would highly recommend it.
Voltas was a collaboration between Tata Sons and Volkart Brothers. Apart from the air conditioning system, Voltas is expanding its arms in the field of the refrigerator, washing machine, kitchen appliances, etc.
Best Voltas AC
From small to a large room and low to high energy savings, we have listed the best of the Voltas ACs till the date. Here is the list of best Voltas air conditioning systems in India suitable for your home.
1. Voltas 173V JZJ
Voltas 173V JZJ inverter AC is equipped with a unique Two-Stage Steady Cool Compressor that ensures instant cooling with steady savings. The 1.4 tonnage capacity is perfect for up to 150sq. ft of area. Its Active Dehumidifier senses the indoor humidity and controls it in every season.
This AC offers fast cooling and you don't have to worry about your monthly bill. If you use this AC 8 hours a day for four months, your annual power consumption bill will be around 1000 units. If you like savings, yes these are the kind of products you should definitely buy. Other important features of this AC include high ambient cooling, sleep mode, inbuilt stabilizer, 100% copper condenser coil, environment-Friendly refrigerant and lot more.
2. Voltas 185V JZJ
Voltas 1.5 Ton 5 Star Inverter Split AC (Copper SAC_185V_JZJ White)
₹

40,090
₹ 68,900
in stock
Amazon.in
as of October 11, 2021 11:52 pm
Now you can beat the heat this summer with all new Voltas 185V JZJ all-star inverter split AC. If you have a little higher budget, we recommend you to try this Voltas 185V JZJ AC. The BEE rating of this AC is 5 star and the annual energy consumption is 892.32 units which can save your monthly bills. The copper condenser coil will give it a long life.
Apart from this, Voltas 185V JZJ is well equipped with all the latest features like advanced air purifier, high ambient cooling, active dehumidifier, environment-friendly refrigerant and much more.
3. Voltas 185V DZA
Voltas 185V DZA inverter window AC is ideal for a medium-sized room. If your home is lacking a ventilation system and you want hassle-free installation, you can choose Voltas 185V DZA window AC.
Its special features include high ambient cooling, active dehumidifier, sleep mode, 100% copper condenser, environment-friendly refrigerant, etc. It has an eco mode that optimizes power consumption and thus reduces your electricity bills. One more useful feature is the self-diagnosis of the AC to conduct a self-check that means any fault or abnormalities in the AC will be automatically reset.
4. Voltas 155V DZW
If you have your own house and the size of the rooms is medium then you can go for Voltas 155V DZW. This 5 star rated AC is perfect for the medium-sized room. Voltas 155V DZW with a tonnage of 1.2 ton will cool your room faster due to its copper coil condenser and its 5 stars rating will help you to save some extra bucks. So now cooling is cheaper for you with 5 stars rated Voltas 155V DZW.
5. Voltas

125 EYR
If you are living in a PG or you have small rooms, then this budget-friendly AC will efficiently cool your room. Voltas 125 EYR/123 ZZY-IMR non-inverter split AC is an all-weather AC that delivers excellent cooling for small rooms. This pocket-friendly air conditioner (if your budget is low) comes with all the latest features and technologies of Voltas. This means that now you have the freedom to choose an AC within your budget with perfect cooling ability.
6. Voltas

123V DZU2
Are you the one who wants an AC that won't increase your monthly bills much? Then Voltas 123V DZU/123 VDZU2 is a perfect choice for your home. Build with copper coil, it provides long life to the condenser so you don't need to worry.
The energy consumption of Voltas 123V DZU/123 VDZU2 is only 723 units (8 hours a day for four months) which are very less when compared to the other ACs of the same price range. It will increase your monthly electricity bill to about 20-30% only.
Which Voltas Inverter Split AC is Best?
An inverter type AC is a great choice for long life and low electricity bill however the MRP is a bit higher than non-inverter AC. Personally, I would recommend you to go for inverter AC because the important feature of inverter AC is the cooling capacity. Inverter AC not only cools room efficiently but also quickly. Voltas has a variety of Inverter AC range and here are the best and latest models.
7. Voltas 185V ADS (Split AC)
1.5 Ton high-performance Voltas split AC with 5-star ratings and inverter technology to save a huge monthly bill. Best in class refrigerant gas R32 and consumes only 892.32 units electricity every year.
8. Voltas 125V DZV (Split AC)
This AC has a capacity of 1 Ton and clearly designed for a small-sized room. This inverter AC is 5-star rated and very efficient. As you know that a conventional ceiling fan consumes around 250-300 units of energy annually while this AC consumes only 617.64 units on average.
9. Voltas 183V DZU (Split AC)
One of the best 3 stars rated 1.5 Ton air conditioner by Voltas which you can buy around rupees 35,990 in India, comparatively low as compared to 5 stars AC. The design is modern and looks beautiful with your room's interiors.
Which Voltas Window AC is Best?
10. Voltas 185 LZH
Announced in 2019, 185 LZH is a 5-star 1.5 Ton capacity window air conditioner which is enough to cool a medium-sized room. It has a copper condenser coil and saves as much 3 stars split AC. It comes with R-32 refrigerant which is most efficient. Normally other Voltas Window ACs come with R-22 refrigerant which is comparatively less efficient.
11. Voltas 185V DZA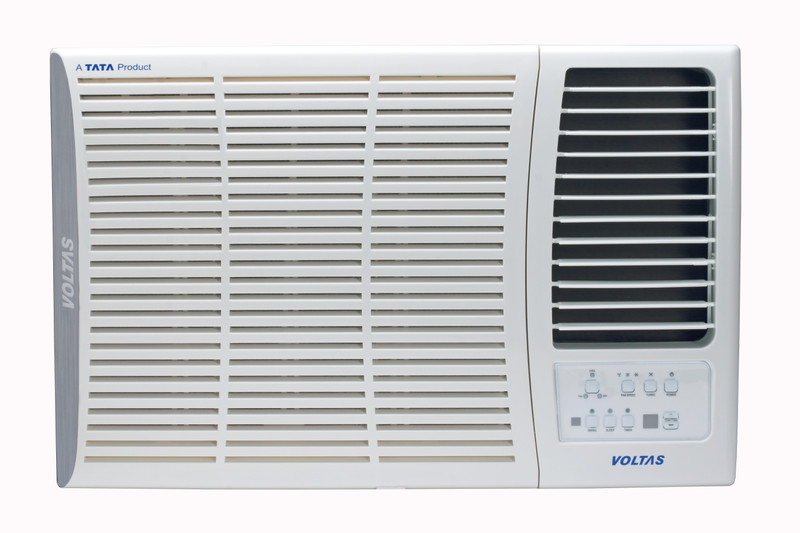 Voltas 1 Ton 5 Star Window AC - White(125DZA, Copper Condenser)
₹

25,850
₹ 29,990
in stock
Flipkart
as of October 11, 2021 11:52 pm
One of the most efficient Voltas window AC that has a capacity of 1 tonnage. The price is fairly low and the BEE rating is full i.e 5 Stars. The AC support all the major features like active dehumidification, anti-dust filter, e-saver and 100% copper condenser except the refrigerant is R-22 type.
Frequently Asked Questions
1. What is the normal lifespan of Voltas AC?
On average, Voltas AC can serve optimal cooling ranges from 6 to 10 years. However, there is always a good chance to improve your AC lifespan by doing proper maintenance. If you don't service your AC unit for one year or so, the appliance may get damaged by corrosion or other chemical activities.
2. How good is the Voltas brand in India?
Actually, Voltas is a very reputed AC brand in India and around 23% of Indian customers purchase Voltas AC as their first choice. One should consider buying this brand for timely service and great support all over India. In fact, Voltas has the largest number of AC repair and service centers across the country.
Voltas is a very innovative brand and they are one who launched the first Inverter Window AC ever in India. Also, recently this brand also won "BEST BRAND IN THE CONSUMER DURABLES CATEGORY" by Walmart. Read here
4. Which AC is the best LG, Carrier, Lloyd, Bluestar or Voltas?
We know that there are tens of AC brands in India and based on Innovations, Performance, Price, and Support, we have ranked them. Voltas is our second favorite brand that you can in India after Hitachi. That is the reason why Voltas should be a go-to brand if compared with LG, Lloyd, BlueStar, and Carrier. Please check how we rank the best AC brand in India.
Conclusion
Voltas as a leading brand with great qualities of products are capturing the Indian market at a very fast rate. Most of the air conditioners this brand is offering are budget-friendly but with all the latest features. You can choose your air conditioner within your price range and enjoy the pleasant environment around you this summer.
If you feel like asking some queries, please free feel to mention in the comment section.